Ultima Ready Mixed Latex Waterproofer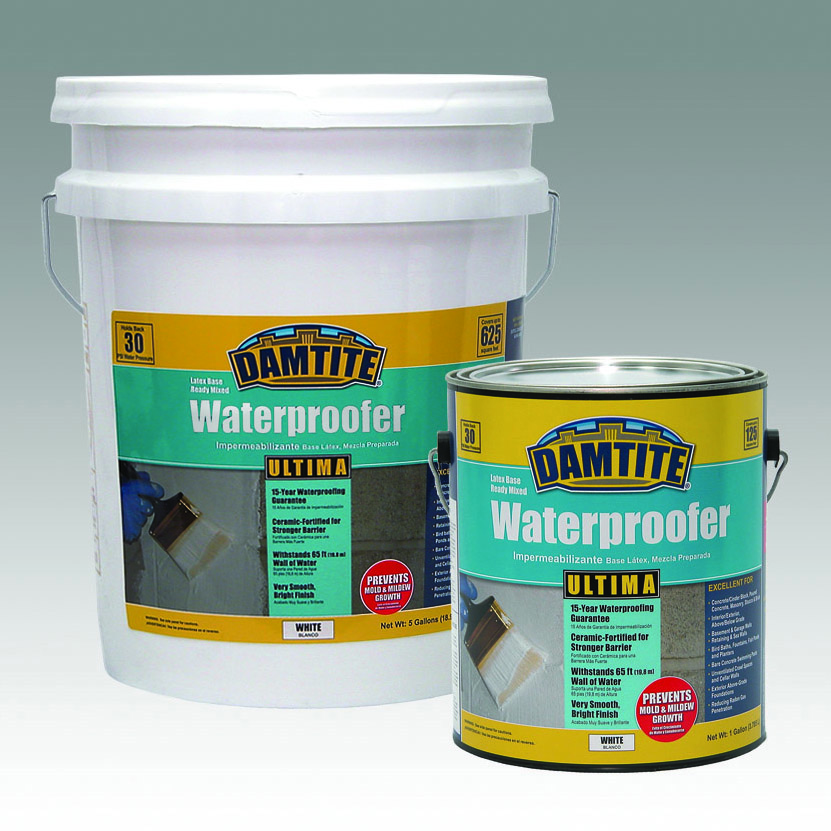 15-year Waterproofing Guarantee
Ceramic-Fortified for Stronger Barrier
Withstands 65 ft (19,8 m) Wall of Water
Very Smooth, Bright Finish
Damtite ULTIMA is a low-odor latex masonry waterproofer, formulated with mildewcide to prevent mold/mildew growth on a dry paint film and with ceramic to provide a whiter, smoother finish. For interior & exterior, above & below grade applications. Durable, alkali-resistant coating provides excellent waterproofing protection with a decorative finish for all masonry, cinder & concrete block, poured concrete, brick, stucco, basement, garage and retaining walls & foundations. No pre-mixing or pre-wetting is needed. Fast drying with easy soap & water cleanup. Stops 30 psi of hydrostatic pressure. Includes fully transferable 15 year warranty. Tests Passed: ASTM D-7088 Resistance to Hydrostatic Pressure & ASTM D-6904 Resistance to Wind Driven Rain. Note: Not for use on floors or horizontal surfaces. Will not withstand foot traffic. May be applied over previously-painted surface in sound condition but the warranty is void, since ULTIMA must enter pores to perform.
Available in 1 gallon & 5 Gallon sizes.
Provides best results applied to dry surfaces when no rain expected for several days, but surface can be slightly damp. Clean the surface thoroughly, removing any loose mortar, paint, dirt, dust, grease, oil, form-release agents or algae. Follow Damtite's Step 1-2-3 Project Guide, including:
Step 1 – Prepare the Surface: Remove any powdery, salt-like deposits (efflorescence) or neutralize alkali with Damtite Concrete Cleaner. Rinse thoroughly.
Step 2 – Repair the Surface: Patch cracks or holes in the mortar joints, wall-floor joints, or in the concrete block with Damtite Waterproof Hydraulic Cement.
Step 3 – Decorate & Waterproof: Apply two coats of Damtite.
Gallon coverage – On rough, porous surfaces, expect 75-100 sq. ft. (7-9,3m²); on smooth concrete or previously painted areas, up to 125 sq. ft. (11,6 m²).