Step 3
Decorate & Waterproof
Choose Between Powder and Latex Waterproofers
Economical Powder Waterproofers
Choose from 3 high-performance powder formulas with 10-year warranties – safe for drinking water cisterns, birdbaths & fishponds.
Maximum Coverage Most economical – TWICE the coverage of others! Saves you money by using less product to complete your project. It covers twice the area. Use a quality nylon bristle paint brush.
SuperTite Includes a dry polymer resin for strong adhesion. No liquid additive needed. Adheres to all masonry surfaces
Apply with 4-row, 6″ masonry brush.
Heavy Duty Ideal for creating textured finishes and covering mortar joints.
OR
Tintable, Ready-Mixed Latex Waterproofers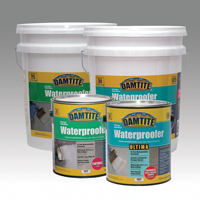 Regular Latex is a convenient readymixed paint with a bright white finish. 10-Year Waterproofing Warranty.
Ultima Latex is formulated with mildewcide to prevent mold/mildew growth and with ceramic to provide a whiter, smoother finish
15-Year Waterproofing & 5-Year Mold Warranties.