Decorate & Waterproof
Maximum Coverage Waterproofer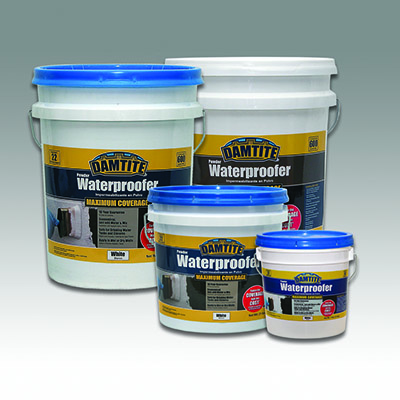 10 Year Guarantee
Economical, Easy-Mix Solution
Apply to Wet or Dry Walls
Breathable Film; No Moisture Trapped in Wall
Safe For Drinking Water Tanks & Cisterns
A Heavy-Duty, Portland cement-base, waterproofing coating for sealing, protecting & decorating walls and surfaces constructed of poured concrete, concrete/cinder block , masonry, stone, brick or stucco. Safe coating for sealing the inside of drinking water concrete tanks and cisterns. Easy to use; just add water (plus Damtite Bonding Additive for previously-painted or non-porous surfaces) and mix. Eliminates dampness; resists mold/mildew & flaking/chalking while beautifying and sealing all pores & voids. Unlike ready-mix paints which can only be applied to dry surfaces, this product is made for use on wet or dry surfaces. It withstands over 22 psi of hydrostatic pressure (equal to holding back a 48 foot high wall of water). Plus, it is breathable, so moisture does not get trapped behind the surface. It also reduces Radon Gas infiltration. Not formulated to withstand foot traffic. Tip: Wear protective gloves and goggles.
Surface must be clean and completely dry. Remove any dirt, debris, oil or stains. Any cracks or loose joints must be repaired properly before applying Clear Shield. Pressure wash old concrete or brick with water. For vertical surfaces, use Damtite Concrete Cleaner to remove mildew or efflorescence (salt-like deposits). For new concrete, wait a minimum of 30 days for proper curing before applying.
Two coats required for best results and warranty! For smaller projects, apply with 4-row masonry brush; for larger projects, use plaster's hopper spray gun. Insure surface is uniformly pre-wetted & dampened with clean water before applying each mix. Start at top of wall in corner and work down wall, applying liberal amount of product, brushing first coat in different directions to penetrate & fill pores, pinholes and hairline cracks. Smooth out the second coat by lightly brushing in one direction across wall. To avoid lap marks, complete from corner to corner in one application. Dip brush in clean water often for easier workability. Allow first coat to dry 24-48 hours (or longer in unventilated or severe leaking areas). Dampen surface lightly with clean water prior to applying second coat. Follow same procedures to apply second coat. Can create textured or swirled finishes. Note: for bottom third of basement wall with persistent water seepage problems, apply a thicker second coat or even a third coat.
Recommended Sprayer: Kodiak M2 (by American Spray Technologies, Auburn WA).
Nozzle size 5/16″.
1st coat over bare smooth/non-porous surface or 2nd coat application:
Up to 350 sq ft (32,5 m²). 1st coat over rough/porous surface: approximately 280 sq ft (26,0 m²).